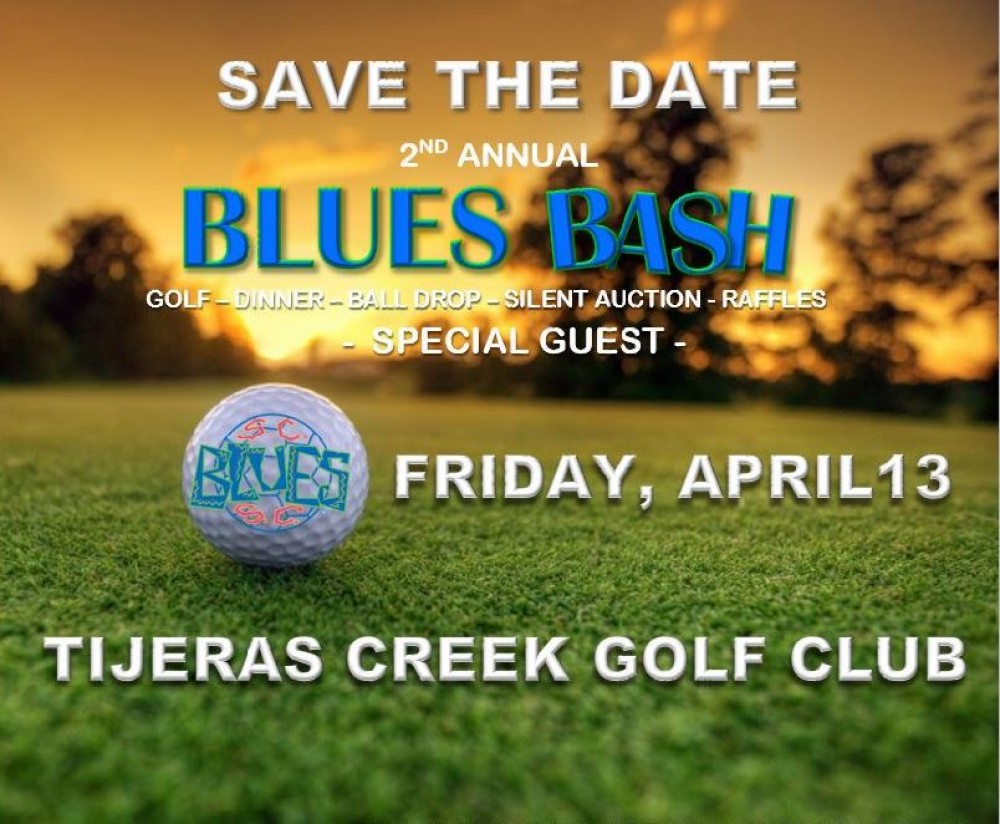 The So Cal Blues will host the 2nd Annual Blues Bash on Friday, April 13th at Tijeras Creek GC. This fundraiser will include a golf tournament (scramble format), dinner, helicopter golf ball drop, auction as well as an evening with our special soccer guest.
Blues Bash will be the one and only So Cal Blues fundraiser for the year. There will be two main features to the event, the golf tournament/helicopter ball drop and the dinner/auction/special soccer guest. We are planning a fun filled day that offers multiple ways to participate and support the continued success of the So Cal Blues. Thank you in advance for your support, and we look forward to a fun and memorable event.
The So Cal Blues have been the premier women's soccer club in southern California since it's inception. To date, the Blues have produced 8 National Championship Teams, 20 Far West Regional Championships, 42 CYSA South State/National Cup Championships, as well as multiple National Team Players, World Cup participants and most recently the 2016-17 Gatorade  National Girls Soccer Player of the Year!  Additionally, hundreds of Blues players have gone on to play college soccer (Blues Players in College). Equally important have been the life experiences and relationships built from the players time with the So Cal Blues. We want to continue to offer these experiences for the present and future young ladies that represent the Blues. To this end, we encourage and welcome your support of the Blues Bash.
There are a number of ways to support this great event:
1. Come join us for a great day of golf, and an evening dinner & fun!
2. Purchase tickets for the Helicopter Ball Drop.
3. Purchase tickets for a great dinner, silent auction and evening with our Special Soccer Guest.
4. Sponsor the event by providing a silent auction item or purchasing one of the sponsor packages.
Blues Bash 2018
| | |
| --- | --- |
| What: |  Golf Tournament, Helicopter Ball Drop, Dinner, Auction, Raffle, and evening with our Special Soccer Guest |
|   |   |
| When: | Friday, April 13th, 2018 |
|   |   |
|   | 11:00am - 12:45pm - Registration & Check In |
|   | 1:00pm -  Shotgun Start (4-person scramble) |
|   | 6:00pm - Cocktails & Silent Auction Opens |
|   | 6:30pm - Helicopter Ball Drop |
|   | 7:00pm - Dinner and Golf Awards |
|   | 7:30pm - 19th Hole Raffle Winner |
|   | 7:40pm -  Special Soccer Guest |
|   |   |
| Where: | Tijeras Creek Golf Club |
|   | 29082 Tijeras Creek  |
|   | Rancho Santa Margarita CA 92688 |
|   | (949) 589-4421 |
|   |   |
| Early Bird Special: | $190 "Early-Bird" Entry (Ends March 16th) -- Includes golf, cart, lunch, dinner, tee gift + (2 drink tickets + 1 EXTRA dinner ticket)   |
|   |   |
| Golf & Dinner Event: | Regular: $175 Golf Entry -- Includes golf, cart, lunch, dinner, and tee gift |
|   |   |
| Dinner Event: | $50 Dinner Only (includes 1 dinner & 2 drink tickets) |
|   |   |
|   |   |
|          | Email: scbluesbash@gmail.com |
| Blues Bash Contacts:  | Ted Gleason - (323) 823-4014 |
|   | Robbie Mulligan - (949) 923-5353 |
|   |   |
GOAL:$50,000.00
ACHIEVED:$43,970.00
Golf Ball Drop entries:
4397